Best Gynecologist In Hyderabad
Women body undergoes a series of changes in different phases of life. Right from puberty until menopause, there are drastic changes that could be overwhelming and bewildering. We, at Kiran Multispeciality Hospital, understand the concerns and dilemmas women face at every stage. Therefore, is committed to providing the best gynecological care.
What is gynecological care?
It is very important for a woman to know everything about her body so that she can manage her health and lead a healthy life. At gynecological care, we have the Best Gynecologist in karmanghat Hyderabad who provides consultation, gynecological surgeries along with women's health checkups, customized checks, and other related in-house diagnostic treatments.
Our holistic approach towards the treatment in a comprehensive and compassionate manner ensures developing a friendly relation with the patient. We, at Kiran Multispeciality Hospital, care about our patients and are fully prepared to provide a blissful healthcare journey to them.
With our best Gynaecology and Obstetrics doctors in Hyderabad, we provide a complete spectrum of gynecological services to women of every age group. We cater to provide consultation and treatment from teens to senior citizens. Kiran Multispeciality Hospital has a team of dedicated and expert gynecologists who have years of experience in their field. Our finest work experience, state-of-the-art facilities, and infrastructure make us one of the Best gynecology hospital in Hyderabad.
What is our expertise?
We provide a full spectrum of women's health care services that include-
Gynecological care & Fibroids, Endometriosis, Ovarian cysts, Ectopic pregnancy
Infertility issues & IUI,IVF- ICSI, Ovulation Induction
Pregnancy care
Prenatal and postnatal care
Yearly checkups
Menopause clinic
Other than these, we also provide treatment for different issues that women face during their life like menstrual problems, birth control, fertility, menopause, and other issues that require specialized gynecological advice and care. At Kiran Multispeciality Hospital, the presence of the Best Obstetrics and Gynaecology Doctors in Hyderabad ensures you get the best care and treatment.
Why should you choose Kiran Multispeciality Hospital for Gynecology and Obstetrics?
Providing a wide range of healthcare services, Kiran Multispeciality Hospital is the best to seek diagnosis, treatment, regular checkups, and every gynecological care needed in different stages of life in women. We serve our best straight from the pre-conception planning to pregnancy until menopause and beyond that.
At Kiran Multispeciality Hospital, you get personalized care at every stage of your life from the best and highly experienced Gynecologist Obstetricians In Hyderabad. Our gynecological care includes management of all types of pregnancies, even if it comes under high-risk pregnancy, along with prenatal diagnosis care and treatment.
Our specialties lie in providing the cure for all diseases and ailments that are related to the female reproductive system. We also ensure providing emergency gynecological services along with educative, informative, and supportive services.
With a team of dedicated doctors, competent staff, and supportive services, we make sure our patients get treated in the best ways possible. Our doctors and nurses are available round the clock with specialized gynecological care. For all your concerns and dilemmas regarding women's health, Kiran Multispeciality Hospital is your one-stop destination as we are the best and most reliable Gynecology and Obstetrics Hospital in Hyderabad. With our complete support and care, we promote women's health and well being.
We also provide guidance and counseling regarding health, diet, lifestyle that leads to the proper growth of women. Kiran Multispeciality Hospital is committed to providing care and resolving the queries of women that may arise in any phase of life.
Visit Kiran Multispeciality Hospital for more information regarding our services in the gynecological care department!
Key features:
24*7 In-house Gynecologist availability
Laminar flow Operation theatres
Advanced Laparoscopy Equipment
State- of & Art Infection prevention norms, Safe surgery protocols
ICU facilities
Ventilator facilities
On-call sub-specialities & Urology, Oncology
Personalised care
Affordable cost
Some of the Surgeries Offered:
Diagnostic Laparoscopy
Laparoscopic Sterilization
Laparoscopic Management of Ovarian Cyst
Laparoscopic Salpingo-Oophorectomy
Laparoscopic Management of Tubal Pregnancy
Laparoscopic Total Hysterectomy
Laparoscopic Cervical Circlage
Laparoscopic Tubal Re-canalization Surgery
Diagnostic Hysteroscopy
Laparoscopic Myomectomy (In-bag morcellation)
Laparoscopic Sacro-Colpopexy /sacro-cervicopexy
TVT- abbrevo for Stress Urinary Incontinence
Laparoscopic Vesico-Vaginal Fistula Repair
Laparoscopic Management of severe Endometriosis
Operative Hysteroscopy (Submucous Myomectomy, Septum resection, Metroplasty and TCRE)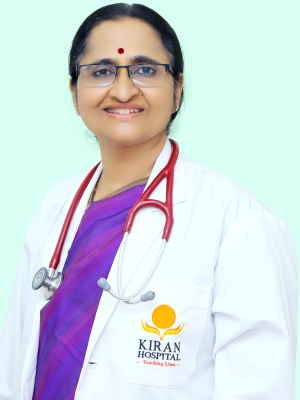 Dr Sai Leela
M.D.DGO
M.D.DGO. Dr.Saileela is a Gynecologist, Obstetrician and Infertility Specialist and has an experience of more than 35 years in these fields. She completed MBBS from Sri Venkateswara University(Kurnool) in 1982. Gold Medalist in microbiology.
READ MORE