General Medicine Doctors In Hyderabad
We are the best General Medicine doctors In Hyderabad that strives to serve the patients with utmost care. Today's lifestyle has made us susceptible to a number of ailments. Moreover, poor eating habits have made our immune system weak. Hectic schedules and day to day stress bring a lot of negative impacts on the body. Therefore, a routine health checkup has become of utmost importance.
At Kiran Multispeciality Hospital, we understand the need for an efficient healthcare system for the well-being of everyone. Therefore, our general medicine department does not let any stone unturned to provide the best care.
Diagnosis is the first step of any treatment. In the present healthcare system, good interaction with the patient and taking a medical history is a crucial step. It is a deciding factor for a lot of ailments. Proper general evaluation in such cases would make the treatment of any medical issue complete. Our specialties deal with the diagnosis and adequate treatment of different types of communicable and non-communicable diseases.
At the same time, it is important to create a friendly relation with the patients so that they can trust us, and thereby we can work together for the best results.
Our general medicine department recognizes all the above facts and the need for proper clinical treatment for any condition, no matter how bigger or smaller it is. We recognize the importance of both emergencies and non-emergencies and treat them as we know that any unrecognized or untreated ailment might cause complications in later years.
We, at Kiran Multispeciality hospital, treat every patient concern such as a common cold or any serious chronic disease with the best treatment. With 24*7 availability of doctors and staff, we are equipped to treat any emergency case at any time that has made us the most reliable General medicine hospital in Hyderabad.
Our services include:
General health checkups

Diagnosis and management of Diabetes

Diagnosis and management of Thyroid diseases

Diagnosis and management of Hypertension

High cholesterol treatment

Septic shock treatment

Poisoning treatment

Allergy treatment

Asthma treatment

Diarrhoea treatment

Dengue fever treatment

Pneumonia treatment

Treatment of Malaria, Typhoid
In toto, we can provide the best treatment for almost all the minor to major ailments. Our doctors have years of experience and expertise in their respective fields. Moreover, we utilize medically advanced technologies and are equipped with state-of-the-art facilities and medical equipment to provide the most suitable and effective treatment for the patient. With a team of specialized doctors, nurses, and staff, we make sure that you feel comfortable throughout the treatment procedure.
Providing targeted patient care in a sophisticated environment, keeping the hygiene at mind, our highly skilled doctors ensure giving treatment with evidence based diagnosis backed by years of education, knowledge, expertise, and research.
At Kiran Multispeciality Hospital, you are under the guidance of the best General medicine doctors in Hyderabad who have experience handling critical cases for many years. We provide preventive health checkups to evaluate the health status of patients from time to time. We provide efficient support services in different specialties only after a complete diagnosis of the issue. If you want the best General medicine in Hyderabad, Kiran Multispeciality Hospital is at your disposal.
Visit Kiran Multispeciality Hospital to know more about our general medical services and care!
Key features:
24*7 In-house physician availability

ICU facilities

Ventilator facilities

On-call sub-specialities & Cardiology, Gastroenterology, Nephrology, Neurology, Endocrinology

Personalised care

Affordable cost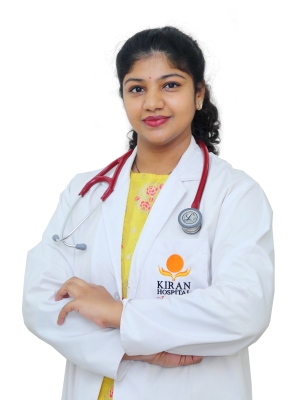 Dr.Neeharika Reddy
MBBS, MD
Dr.Neeharika Reddy ( MBBS, MD) is a practising general physician and diabetologist know for offering excellent patient care and also she is specializes in providing thyroid care and treating other emergencies. She has an experience of 4 years.
READ MORE