General Medicine Doctors In Hyderabad
A general physician is a doctor who is capable of treating a wide range of ailments affecting the body which does not involve surgical intervention. He is a busy general doctor as he diagnoses and treats medical conditions related to respiratory, cardiovascular, neurological, gastrointestinal and endocrinological systems of the human body.

He is a general doctor who is capable of treating any condition related to any part of the body mostly as an OPD treatment.

He may refer the patient to pathological tests to accurately diagnose his condition and advise a most appropriate line of treatment. A general physician is an intensively trained and experienced professional who is capable of providing proper health care to adult patients. He is a doctor near me, who is most approachable as you can contact him directly or through an appointment.

He will discuss your problem in a friendly manner and empathize with you to know your condition comprehensively. Only when he is fully satisfied with his diagnosis or tests, he will prescribe a line of treatment for your condition.

He can handle general as well as serious or unusual medical conditions and will take care of his patients by monitoring their health till they are fully cured.
Our services include:
General health checkups

Diagnosis and management of Diabetes

Diagnosis and management of Thyroid diseases

Diagnosis and management of Hypertension

High cholesterol treatment

Septic shock treatment

Poisoning treatment

Allergy treatment

Asthma treatment

Diarrhoea treatment

Dengue fever treatment

Pneumonia treatment

Treatment of Malaria, Typhoid
A general physical is different from a specialist as he is trained for diagnosing and treating a range of ailments while a specialist concentrates his expertise to a body system or a particular area of medical expertise. In this context a general physician is a general doctor whose experience, practice and expertise help him to diagnose and treat a much larger range of medical conditions.

A general doctor has a holistic approach to the patient's condition. He interacts with the patient, knows his background and habits and his medical history before he decides on the line of treatment. He may even get some pathological tests done on him to be still more accurate in his diagnosis.

His diligence is the price he pays for his great reputation and goodwill among his patients. He is a trained professional to deal with complex interactions of different medications, their side effects especially in patients suffering from multiple conditions or co-morbidities. His prescriptions take care of all these factors.

Kiran Hospitals have a team of general physicians near your place and you can approach them with convenience after an appointment and get an expert medical advice and treatment.
Key features:
24*7 In-house physician availability

ICU facilities

Ventilator facilities

On-call sub-specialities & Cardiology, Gastroenterology, Nephrology, Neurology, Endocrinology

Personalised care

Affordable cost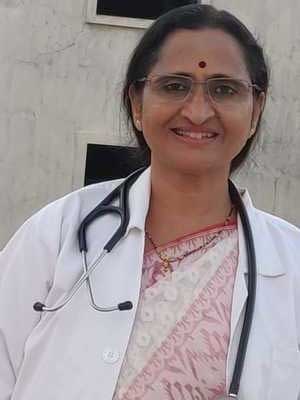 Dr Sai Leela
M.D.DGO
M.D.DGO. Dr.Saileela is a Gynecologist, Obstetrician and Infertility Specialist and has an experience of more than 35 years in these fields. She completed MBBS from Sri Venkateswara University(Kurnool) in 1982. Gold Medalist in microbiology.
READ MORE