General surgeon in Hyderabad
Kiran Multispeciality Hospital is the Best general surgery hospital in Hyderabad, equipped with advanced infrastructure facilities and experienced doctors. The doctors are experts in their surgical specialty with years of experience in performing surgeries for a wide range of ailments. The profound knowledge of doctors has made them the best general surgeon in karmanghat Hyderabad.
We, at Kiran Multispeciality Hospital, ensure taking care of patients not only at the time of surgery but before and after the surgery as well. We provide round the clock services and attend any type of surgical emergency for the patient.
What is the need for surgery?
General surgery involves the treatment of injuries, deformities, and diseases with the help of operative procedures. When any medical issue is not curable with medications alone, the need for surgical procedures becomes essential. We provide the safest and most effective care for our patients by utilizing the most advanced, less invasive, and up to date technologies.
We believe that any surgery has to be considered when it trumps all the other alternatives, like general medication or therapy, and recovery would cause no hindrance to the patient. We combine the meticulousness of the process and the expertise of our surgeons to make sure that the patient's surgical care is on world-class terms. An able team of surgeons, who are also the best General physicians in Hyderabad, along with supporting staff, is a requisite standby for a flawless procedure that we strive for and succeed on a regular basis.
What surgeries do we provide for General Surgery?
Our General Surgery department has to experience in treating the following surgeries with successful rate-
Stomach surgery

Intestine surgery

Appendix surgery

Breasts surgery

Thyroid gland surgery

Salivary gland surgery

Intestine obstruction

Hernia surgery

Piles

Varicose vein surgery

Diabetic foot care and General amputation

Stapler surgery

Emergency surgeries

Trauma surgery
Our experience in Laparoscopic surgery has made us more precise regarding any excesses that could be avoided during the procedure, reducing the burden on the patient in terms of pain, infections, and expense.
Why should you choose Kiran Multispeciality Hospital for general surgery?
For any type of surgical procedure, it is important to consult a specialized and experienced general surgeon. It is important to get the right diagnosis and have the right preoperative, operative as well as postoperative care. We, at Kiran Multispeciality Hospital, understand the importance of right medical advice, consultation for a successful surgery. If you are looking for General surgery hospital in Karmanghat, Kiran Multispeciality Hospital is your destination.
Our general surgeons are specialized in their respective fields with profound knowledge in anatomy, emergency care, immunology, pathology, metabolism, and physiology to provide you the best and healthier life by utilizing medically advanced surgical interventions.
At the same time, with our dedicated staff, our efforts are to make our patients feel comfortable throughout their treatment. The friendly environment at Kiran Multispeciality Hospital is what makes patients feel like home and develop trust with our staff and doctors.
So, if you are looking for the best general surgeons, Kiran Multispeciality Hospital is the right choice. Visit us to know more about general surgery and the other facilities we provide to our patients.
Key features:
24*7 In-house Surgeon availability

Laminar flow Operation theatres

Advanced Laparoscopy Equipment

State- of –Art Infection prevention norms, Safe surgery protocols

ICU facilities

Ventilator facilities

On-call sub-specialities – Urology, Oncology, Neuro-surgery, Surgical –Gastroenterology, Orthopedics

Personalised care

Affordable cost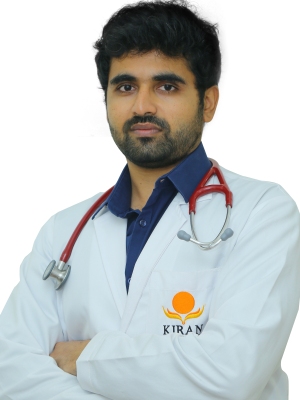 Dr M Sree Ram Reddy
M.S. General Surgery
Dr.M.Sreeram Reddy graduated from S.V.S.Medical college, MBBS 2007 batch. Post graduation from S.V.S.Medical college mahabub nagar 2013. Completed his senio residency in Osmania Hospital.
READ MORE